Artistic Talent Leads Juarez to Bright Future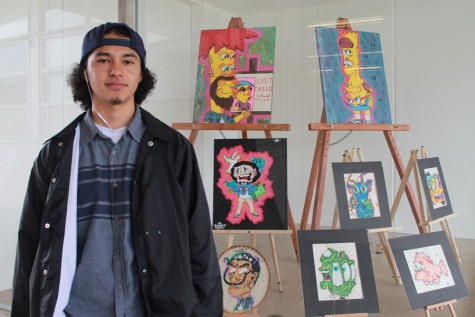 Artists use sketchbooks to free their mind and create their own little world with their imagination. Humberto Juarez, a senior, also known as "Beto" or "Bizzy," is thinking beyond just sketchbooks.
Many students here at the Islands have passed by the astonishing little art show of Juarez's work right next to the ASB room. Juarez has worked extremely hard to let people recognize his artistic skills, and it appears that his art is leading him to a bright future.
As a kid, Juarez visited Los Angeles often and he would always get inspired as he glanced through all of the murals the city has. "Seeing all of those murals made me want to see my name on something big like that," he said.
He's been fond of drawing ever since he picked up markers as a little kid.
Juarez likes to take his time and add any little details that he believes will make a difference in his drawings. "At times I get frustrated, but that's my favorite part, adding all those little details," he said. "I'm trying to keep my viewers' eyes busy."
It's no doubt that his art catches people's attention. It's truly an eye opener, letting viewers go deep inside the artist's imagination.
"It was a big deal for me that the school did this; it's a small step to something bigger. This is how it all starts," mentioned Juarez when asked how he felt about the school being able to provide his first art show.
You have to start somewhere, right?
"This whole art thing has opened many opportunities for me. I got to meet so many great, respectful, people because of this," he said. "It's honestly bringing me a future, better than a 9-5 will ever do. This will be my career, not a job."
Not all of Juarez's drawings have a meaning or story behind them, but he mentioned how they all come from his immense imagination. Juarez also indicated how a lot of his drawings are stories of what has occurred throughout his life and his thoughts about it.
Juarez is really making a name for himself, not only at school, but out of town as well! "Word got out and I got a spot up in a show in San Diego during the summer, so that's good," he said. "That means a road trip for me."
In 10 years from now, Juarez sees himself getting even more known in this career by doing gigs for people, companies, and even cities. He wants to major in graphic design up in Los Angeles and continue his life out there. He hopes to still be making a name for himself, going from a decent lifestyle to a greater one, by bettering himself before starting a family of his own.
"Over the course of these four years, I created and developed my own style and I'll still be continuing to improve and change it up," he said. "I like doing stuff that's unique, that trips out the normal people, but makes 'the weird' feel comfortable."
Leave a Comment