Isle File's Favorite Holiday Movies
The Nightmare Before Christmas 
Andrew Mendoza
'Twas the Nightmare Before Christmas, and all through the house, not a creature was peaceful, not even a mouse. If you couldn't already tell, my favorite holiday movie is The Nightmare Before Christmas. One of my personal favorite genres is stop motion and watching The Nightmare before Christmas is a stop motion dream. 
What I like about the movie the most would be the soundtrack that accompanies each scene like when Jack stumbles into the Christmas world and is filled with wonder as the track "What's This?" starts to play.
The Nightmare Before Christmas is about our main character Jack Skellington being fed up with only having one day of the year to celebrate Halloween. He then finds Christmas Town and after seeing this, he wants to take over Christmas to have yet another day to celebrate Halloween.
Although it is one of my favorite Christmas movies, it's not because I grew up watching it but it's because of my love for stop motion films and the effort it takes to make. My favorite memory was a while after watching this movie. I had started to play the Kingdom Hearts series, and as I made my way through the game, I found that The Nightmare Before Christmas stages were the most charming, and this stays in my memory to this day.
The Holiday
Nahdia Lopez
One of my favorite holiday movies is The Holiday, written and directed by Nancy Meyers. Needing a break from their own lives at home, the two main characters Iris and Amanda, played by Kate Winslet and Cameron Diaz, do a house swap. Iris, who lives in a small cottage in England, moves into Amanda's big Hollywood home for vacation, and vice versa. Both women use the time away from home to explore new things about themselves and figure out what they need to do to be happier. Of course, this rom-com holiday movie wouldn't be complete without Graham (Jude Law) and Miles (Jack Black)  as love interests. 
Though this movie plays in my home year-round, it remains one of my comfort movies. Anytime I watch it, I'm reminded of how much time I've spent watching it with my mom and sisters. No matter how often it's on, it never gets old.
Klause
Lyan Pineda
My favorite holiday movie is Klaus, an animated Christmas movie directed by Sergio Pablos. The plot follows a spoiled, rich kid named Jesper who is forced to be a mailman in a distant town that is split in two groups, the Ellingboes and the Krums. 
As Jesper struggles to mail enough letters to prove to his father that he deserves to be part of the family fortune, he encounters a toymaker named Klaus who he convinces to send children toys if children give Jesper letters asking for them. 
My favorite scenes are when Jesper interacts with Alva, the love interest who shows how the town can change someone for the worse, and when Jesper and Klaus are celebrating with people who help them with toy making. This movie reminds me of the fun of Christmas and having fun with family and friends.
How The Grinch Stole Christmas
Lizbeth Naranjo
My favorite holiday movie is How The Grinch Stole Christmas, starring Jim Carrey, is based on Dr. Seuss' famous book, "How The Grinch Stole Christmas." 
The Grinch is a green hairy being who lives in a cave isolated from all the other Who's in Whoville. He absolutely despises Christmas due to his past. He is seen as scary and gross, but really he is just misunderstood. It is revealed that he only turned out that way because he had grown up being bullied for simply being who he was. Not to mention, he grew up to believe that Christmas was only about presents and he hated that.
He makes a plan and rids all of the Who's of their presents, hoping it'll ruin their Christmas. The other main character, Cindy Lou Who, helps the Grinch return all the gifts and he is accepted by the Who's and spends Christmas with them.
When I was younger, my sister and I loved the movie so much. We even bought the DVD and would play it all throughout December. My parents were tired of it but we weren't. Even now, every December my sister and I stumble upon it and watch it no matter how many times we have already seen it. We know the lines inside out and always have a good laugh. We've lost the DVD, but luckily Netflix exists and we are able to watch it through there.
The Santa Clause
Jlee Ortega
The Santa Clause (1994) begins with Scott Calvin (Tim Allen) scaring a man on his roof on Christmas Eve, causing him to slip and fall. The man's body disappears but the Santa suit he was wearing remains. Reassuring his son Charlie that everything will be fine, Calvin puts on the suit and continues sending out gifts, later being taken to the North Pole. There, Calvin is told that by putting on the suit, he is legally under The Santa Clause, meaning that he has to be Santa Claus.
I think the best scene in the movie would be Santa falling off the roof. While dark, it's memorable. Calvin calls out to the man on his roof, because, why is there a random man stomping on his roof? Santa is noisy as he plops down onto the snow, and Charlie finishes it off with a simple, "Dad! You killed him." 
Recently, I asked my mom about The Santa Clause because I remember watching it with her in my childhood; she said it's her favorite holiday movie too. While I think it's funny and entertaining, she likes it because it "unites families even through differences." Cheesy, but true.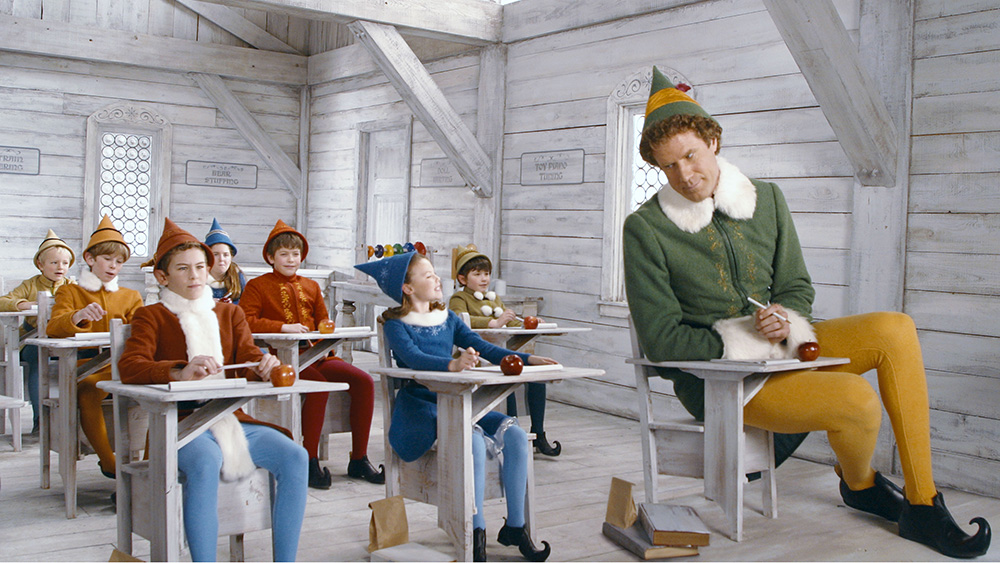 Elf
Israel Lozano
The holiday season is truly a time for endless smiles, laughs, and overall joy. No movie better captures this holiday spirit in my mind better than 2003's Elf.
Elf follows the adventure of a cheerful elf named Buddy (played by Will Ferrell) as he searches for his real father, Walter Hobbs (played by James Caan) in New York City. Through Buddy's spirited antics, he learns to adjust to human culture while also teaching Hobbs the value of fatherhood. 
Will Ferrell's performance as Buddy is humorous and always leads me to root for his development throughout the movie. Meanwhile, James Caan wonderfully portrays the crude businessman who searches for the balance between work and family. Seeing his relationship with Buddy develop into a genuine appreciation for one another is truly a warm sight every watch. Finally, a movie starring Will Ferrell is sure to bring good laughs. Whether it's Buddy eating spaghetti with syrup or Buddy's iconic "SANTA!" scream, there are scenes in this movie that leave my face as red as Rudolph's nose from laughter. 
The Princess Switch
Claudia Silva Aguilera
My favorite Christmas movie is The Princess Switch. What I like about this movie is that it shows two types of lives: one of a royal princess and another in which it shows the life of a pastry chef. The main characters are Stacy DeNovo, a Chicago pastry chef, and Lady Margaret Delacourt, a future princess. They discover that they look like twins, so they come up with a Christmas plan to switch places. I think my favorite scene is at the competition Stacy DeNovo is invited to, where she meets the future princess. A memory associated with this movie is that it was the first Christmas movie I saw with my little sister.
Leave a Comment