Your new ASB officers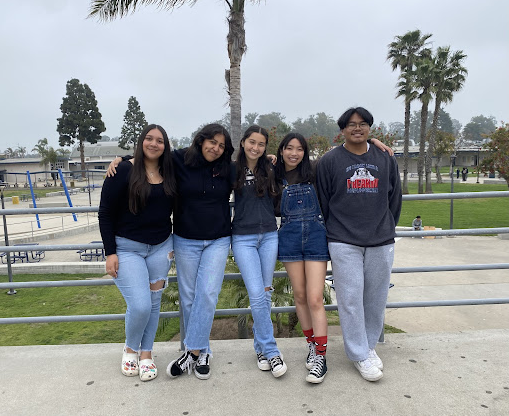 Left to right: Marisela Zeferino, Maritza Saavedra, Lindsay Soria, Kirsten Dimapilis, and Jholo De Jesus.
As the class of '23 graduates, it is time for the class of '24 ASB officers to step up and take their place.
Jholo De Jesus is our current Junior ASB President and was voted to be the Overall ASB President. De Jesus has big plans next year such as planning big events such as Homecoming, Glow Dance, Raiderfest, and the Rallies. "With the help of my Cabinet, fellow ASB Members, and Peers next year will be one to remember," said De Jesus. De Jesus has leadership experience from being Sophomore Class Vice President and Junior Class President and with that, he felt "capable of Overall ASB President".
"I wanted to be more involved with my school," said De Jesus. "Not only that but I wanted to be a voice for the students on campus and listen to their ideas on what can be improved," he adds. His goal at Channel Islands High School is to make a difference and is driven and determined to make next year the best for all CIHS students. "ASB is only part of the picture," says De Jesus. "The rest is in the hands of the students,". 
Lindsay Soria was voted Overall Vice President for next year. She was the current Vice President for the Junior class and gained experience this year. "I already have ideas for this upcoming year and am extremely thankful and excited to be given the chance to make them come true," said Soria. Although she was the only candidate running for the position, she felt that "I needed to get my name out there anyway" because she was going to have an important position in ASB.
ASB is a place full of people with creativity and hard work. As De Jesus mentioned, Soria also wants to hear more of what the students have to say. "Your thoughts on themes and spirit days, everyone should have an opportunity to say what they would enjoy," said Soria. "In ASB we take into consideration what everyone has to say and we use that information to grow," she adds. ASB is said to be a family and when they're all together, they can make a memorable year for everyone with the activities and events they will be planning. 
"Our main goal is to make every event a fun event for everyone," Soria says. "Personally in the end it is such a gift seeing how everyone reacts to everything," she adds. 
Channel Islands High School has the reputation of having the best rallies out of the whole Oxnard Union District. 
Thanks to our ASB, we have built that reputation and with our new Senior Cabinet: President Jholo De Jesus, Vice President Lindsay Soria, Secretary Marisela Zeferino, Treasure Maritza Saavedra, and Publicist Kirsten Dimapilis will surely not disappoint us next year with their creative minds and the student body to help create a memorable year.
Leave a Comment