Pride becomes personal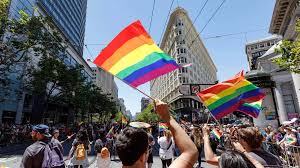 Pride Month, a time to celebrate the LGBTQIA+ community, is the whole month of June. Pride Month was made official in 1999 and has been going on ever since then. This coming June 24th will be the yearly pride festival here in Oxnard and the theme this year is "Shades of Unity in our Community". In downtown Oxnard located at the Plaza Park.
       I am happy to say I have been a part of it myself since 2021. I love the idea of celebrating all types of love from gay, bisexual, and lesbians to queers. It also celebrates the ones who are happiest with choosing their own identity. Not only the ones who have found themselves but the ones who continue to look. 
       Making June the celebration of the LGBTQIA+ was incredibly necessary, in my opinion. The people who are a part of this community had to hide themselves for many, many years because they were afraid to let their true selves shine due to the cruel world out there. They deserve to be celebrated because they spent too many minutes, hours, and even years locking themselves up from the hate that can come with living in this world. 
         I know if I kept closeted it wouldn't be true to me. That's why I came out. I was scared and worried about what people would say. Worried my family would no longer accept who I wanted to be. But I let myself shine and flourish and I've never been happier. It was the best thing I did because I got with the person that means the most to me now.
       When asking Kim Rósales, a senior and one of my classmates, how she felt about Pride Month, she gave me a very thoughtful response: "It's a good way for people in the community to celebrate who they are within themselves. Not only with their sexuality but with their identity as well. Pride month allows them to celebrate the person they hid for so long. Pride month helps the younger generation feel more accepted in society."
         It's OK to be scared sometimes, but it's also better to be who you are. To attain happiness, you have got to take risks and be selfish at times. No matter what, love will overcome any other power. Like the Beatles once said, " All you need is love," and therefore love will always conquer.
Leave a Comment