School Safety on the minds of Raiders
If you've watched the news at all these past few weeks, you must know about the tragic shooting at Robb Elementary School in Uvalde, Texas, taking place on Tuesday, May 24. After injuring his grandma, 18-year-old Salvador Rolando Ramos shot and killed 19 students and 2 teachers while at the school for over an hour.  
Tragic events like this bring questions and worry to the minds of students and school staff across the country. "When I hear about more school shootings, it makes me realize that my job as a teacher has changed in ways that I don't like," said Mr. Clancy.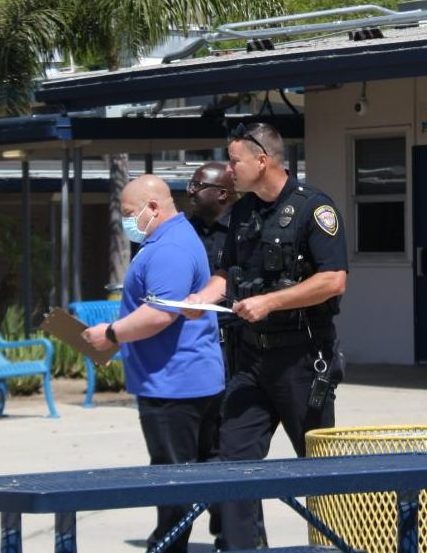 Here at the Islands, we prepare for unthinkable situations like many other schools do: by having lock down drills. Our school resource officer, along with all campus supervisors, split up the buildings among themselves and head out to start the drill. They rattle doors and look through windows to check if people are visible and quiet, making note of whether or not the class is following protocol. With this being the 27th school shooting in the U.S. this year, one can't help but wonder: Do these drills work? What changes must be made to keep people safe in school? 
When asked if he felt these drills make him feel prepared enough, Mr. Kochel, CI teacher said, "Yes, I think they do." However, he has one small criticism on the matter, saying, "I do not think it [the announcements] should be coded language that could confuse people." Kochel believes that ending the use of code names and stating what the actual threat is better prepares students and staff for a real situation. This would be especially helpful for people who might be on campus for the first time and don't know what a code one lock down is. 
Most people say that they continue feeling safe at school, but that doesn't mean we can't put in the effort to make a change. Matthew Albavera, a junior here, feels as though these drills are a "joke." When I asked him what he thought we, as a community, could do to prevent tragedies like this from happening, he said, "Press our lawmakers… it's important to get out there and vote." This opinion is probably one of the most powerful because it is easily achievable. He says that if we let politicians know that we want stricter gun laws and background checks, then that's what they'll focus on. 
So whether it's advocating for lawmakers to make changes or practicing more safety drills, a change needs to be made. There's no reason for the lives of students to be taken, especially not in a place of learning. 
Join the Isle File in honoring the families and victims of Uvalde: Makenna Lee Elrod, 10; Layla Salazar, 11; Maranda Mathis, 11; Nevaeh Bravo, 10; Jose Manuel Flores Jr., 10; Xavier Lopez, 10; Tess Marie Mata, 10; Rojelio Torres, 10; Eliahna "Ellie" Amyah Garcia, 9; Eliahna A. Torres, 10; Annabell Guadalupe Rodriguez, 10; Jackie Cazares, 9; Uziyah Garcia Jayce Carmelo Luevanos, 10; Maite Yuleana Rodriguez, 10; Jailah Nicole Silguero, 10; Irma Garcia, 48; Eva Mireles, 44; Amerie Jo Garza, 10; Alexandria "Lexi" Aniyah Rubio, 10; Alithia Ramirez, 10.
Leave a Comment