Athlete Spotlight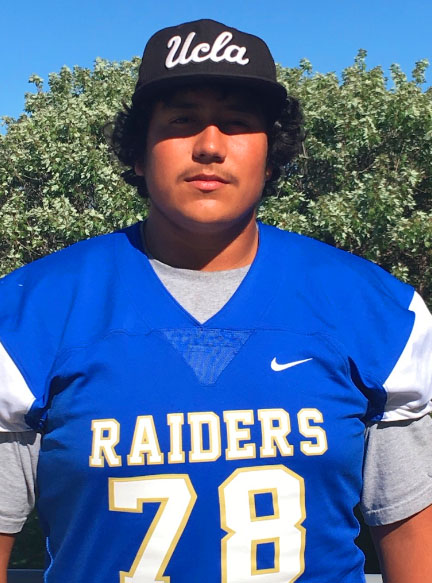 "It's not always pretty down in the trenches," said by the big left tackle Alejandro Gonzalez.
Gonzalez has been playing tackle football since he was a freshman, but he has always been passionate about football since he was a little boy. He chose football because of his size and the strong relationships it builds.
"No one intimidates me on the field; I play with pride," states Gonzalez. Gonzalez, a senior,  and is very serious about football and he puts in all his effort into every single play. The team looks up to Gonzalez as a leader on the offensive line and a leader for the team.
Only about 2 percent of athletes in the country get scholarships to play Division 1 football in college. So, Gonzalez knows he must raise his expectations higher on and off the field.
His dream is to receive a full-ride scholarship to his dream school, UCLA. He has loved the Bruins since he started watching football .
Gonzalez always tries to lead as a good example on and off the field for the younger athletes that look up to him. This season one of his dreams did come true and that was him recovering a fumble and running it in for a touchdown.
"That's every offensive linemen's desire — to have the ball in their hand and score a touchdown," he said. Gonzalez is a 6'3", 300-pound monster who loves putting the other teams on their butt.
"What's your why," is Gonzalez's motto, meaning "Why do you do the things you do and what do you do them for." His goals for his senior year are to grind out the rest of his last season of football and to try and make it to CIF playoffs. The Raiders are off to a rough start at 0-5; they start Pacific View League play tonight against Rio Mesa.
Gonzalez is also on the track team and he says that his main objective is to "be the best in the Pacific View League and set school records."
Leave a Comment