Raider Hero: Mr. Prum's long journey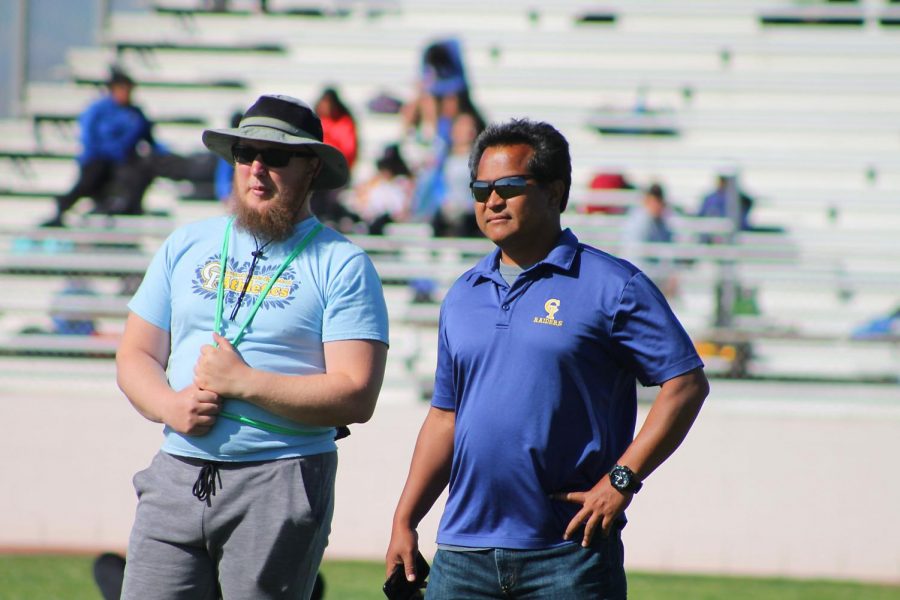 Athletic director, coach, teacher, mentor. Mr. Phyra Prum wears a variety of hats at Channel Islands High School. Our CI Hero is Coach Prum because of how extraordinary he is and how much he does for our school.
Prum was born in Cambodia where he spent the first five years of his life in the Killing Fields. The Killing Fields of Cambodia are fields of land around Cambodia where millions of people were murdered by the Khmer Rouge Reign from 1975 to 1979.
He then went to a refugee camp in Thailand until a family from Santa Barbara sponsored him and his family. Prum then attended Ventura High School where he played sports.
"What sports did I play? A lot. But in high school I played football, track, and soccer. To me they were fun and challenging, it's good camaraderie with your teammates," says Prum.
After high school Prum went to college with the intentions of majoring in biology, but he then switched majors.
"I became a teacher by accident. I switched majors and I began to enjoy English and history. I then decided, OK let's try teaching," explains Prum.
Prum has taught English 1, 2, 3, and 4, Reading, U.S. History, Economics, Health, and Geography. This school year he teaches English 1 Honors, Economics, Football, and Track.
Coach Prum also became a coach by accident. His first year of teaching at CI, the football and track teams needed a coach. He was convinced to coach the teams and he's been coaching ever since.
Three years ago, Prum applied and interviewed for the position of athletic director. These past three years you
Continued from Page 1
could see Prum at almost every athletic event. Whether it was a home game or an away game, Coach Prum was there cheering on and supporting our teams.
"My favorite part of the job is watching athletes mature and grow, not only physically but socially, emotionally, and as a person," says Prum.
Coach Prum is our CI Hero because of the amount of time and effort he puts into CIHS. Coach Prum's heroes are his parents.
"They are the ones that have taught me not only to work hard but empathize and understand people from where they are coming from. They are the reason why I got into teaching and coaching," expresses Prum.
Mr. Sam Kochel, Coach Prum's next-door class neighbor, shares similar interests and ideas with Mr. Prum. They both like talking about religion, social sciences, academic knowledge, politics, teaching, and government. Kochel and Prum have been friends for fourteen years now. Kochel believes that Mr. Prum was a good choice for our CI Hero.
"The problem is that we only have one Mr. Prum and we need a lot more," Mr. Kochel said. "Mr. Prum being the athletic director is fabulous because he's really good at it; he's good at dealing with all the people. He is also a fabulous teacher, he is really good at dealing with his students, and his students know that he cares.
"He has a good sense of humor, but he is also academic. Having him only teach two classes is a really sad thing in the sense that he is really good at preparing students for college and writing. But if we had him doing that then who would be the athletic director?"
Rhys Sevilla, a senior and varsity track sprinter, has known Coach Prum for four years.
"He makes me feel like I am a part of a family; he's been a father figure to me," Sevilla said. "He pushes me to do better and encourages to improve upon my skills," expresses Sevilla.
Coach Prum works to improve CIHS every day. He is constantly in between sports as an athletic director and as a coach. His spirit and dedication do not go unnoticed on campus.