A Bittersweet Goodbye to Mr. Carrasco.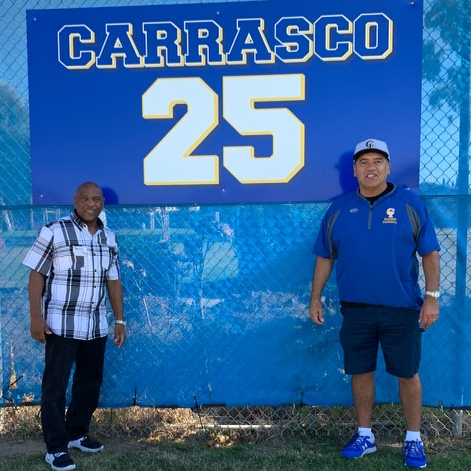 Mr. Ernie Carrasco, who is retiring next week, is a veteran member of the faculty who has been imparting wisdom at Channel Islands High School since 1998 and in the district since 1996. But his history with CI and its culture goes back even further.
In 1975, Mr. Carrasco began his freshman year at CI. He loved it because "CI is my home." Although meeting his future wife, Lily Ligsay, in his freshman English class was likely also a big part of loving CI. 
Back then, Mr. Carrasco said CI was a powerhouse in football, baseball, basketball, and wrestling. But admiring them was never enough; he even played baseball, football, and basketball at CI. Mr. Carrasco's athletic ability earned him a football scholarship when graduating from CI in 1979. He studied at the University of Utah but left early to play pro baseball. He eventually graduated from CSU Northridge with a degree in history and then got his master's degree in physical education at Azusa Pacific. 
Not content with just playing in high school, Mr. Carrasco had a professional baseball career. He played with the St. Louis Cardinals from 1982 to 1987, spending his last year with the Minnesota Twins. In 2008, his athleticism would reward him, leading to his induction into Ventura County's Sports Hall of Fame.
Mr. Carrasco came back to CI intending to be a coach; however, his career took a turn into social studies, where he has shared his knowledge with generations of students as a teacher and mentor, with a broad list of subjects: History, Ethnic Studies, American Government, Economics, and even PE for 6 years. 
He has worked with many students, athletes or not, during his long career as a coach and a teacher. In addition to all of the subjects he taught, he also coached football for 20 years, baseball for 9 years, wrestling for 1 year, girl's tennis for 3 years, and then golf for 10 years, five of those years being as an assistant and another five as a head coach. Outside of his career as a mentor, educator and athlete, he also has his family life with the aforementioned Lily. In fact, his children and a grandchild all graduated from CI. Ernie in 1999, Terisa in 1996, Daniel in 2005, and his grandson Jim in 2018.

His retirement is brought on largely due to age, at 62 years old. However, Mr. Carrasco stated that "If I had a chance to be younger, I'd still choose to work here." Although he'd also consider working at a higher level of education if he had the chance. In retirement he will continue his career as a golf coach at Santa Barbara City College and visiting Hawaii yearly as he has been doing since 2007.

As his final aloha to the CI community, Mr. Carrasco's final bit of advice to CI students: "Realize education equals income as an adult. So the more education you get as an adult, the more money you make." 
To his fellow teachers, Mr. Carrasco says, "Honesty is the best policy, and keep fighting the good fight."
Leave a Comment